Ellie Williams
Executive Director
Ellie Williams, MS, NCC, LPC, BCPC
Ellie earned her Master's degree in Mental Health Counseling from Shippensburg University, PA, where she graduated with honors and was President of the National Honors Society, Chi Sigma Iota. Ellie achieved certification through the National Board of Counselors and completed her licensure requirements in 2010 to become a Board Certified Professional Counselor.
Ellie had nine years of child welfare experience prior to becoming the Executive Director of EquiTeam Support Services in 2007. She is ADVANCED-certified in EAGALA Model Equine-Assisted Psychotherapy/Learning (EAP/EAL), an EAGALA Military Services Provider, EAGALA Mentor and a certified Dyadic Developmental Psychotherapy Practitioner.
The horses are an integral part of the EquiTeam therapeutic team. The horse is amazingly perceptive and gives the client an immediate reaction to any situation. The client's reaction to the horse and its reaction to the client demonstrate how to better communicate and interact with others to accomplish personal goals.
Bulletproof ("Bullet")
The newest equine staff member, Bullet, is nothing like his name might portray! He is a 14-year-old Quarter Horse and came to EquiTeam from New York after a long career showing and teaching children to ride. His allergies led him to his new vocation as an equine therapy horse. He is the strong, quiet type with a huge heart who gets along with everyone. Bullet has lots of love to give to all that spend time with him.
Chipper ("Chip")
Chipper is one of EquiTeam's miniature horses and is like a big man in a little body. Although he is already in his 20's, his kind eyes and loving personality don't show his age. EquiTeam rescued Chipper approximately five years ago. He had been poorly cared for and was extremely underweight, yet you would never believe it looking at his waistline now. We brought Chipper home right away to give him a safe and happy home. Not only is Chipper the mascot at EquiTeam, he does tricks. He also gives the best kisses and hugs.
Elby ("LB")
LB is a retired show hunter who started his life a long way away, in Europe. When he arrived in the United States, he found a wonderful home with a dear friend and ongoing supporter of EquiTeam, Allegra Knight. LB and Allegra did many fun things together until LB injured his leg, which ended his show and riding career. He is still young, and Allegra kindly donated him to EquiTeam so that he could have a wonderful, meaningful career as an equine therapy horse. LB has a ton of personality and loves back scratches and kisses. He has the cutest face that you have ever seen!
Green Spring Puck ("Puck")
Puck is a 15.3hh Dapple Grey Connemara/Thoroughbred Cross. He is currently ten years old. Puck was bred to be an athletic sport horse, and had a successful riding, jumping and showing career. In recent years Puck has struggled with hoof issues, which limited his riding career. Fortunately, this has allowed him to fully immerse himself in EquiTeam's equine therapy program. He is curious, kind and playful, and really connects emotionally with the clients we serve.
Griffin ("Griffy")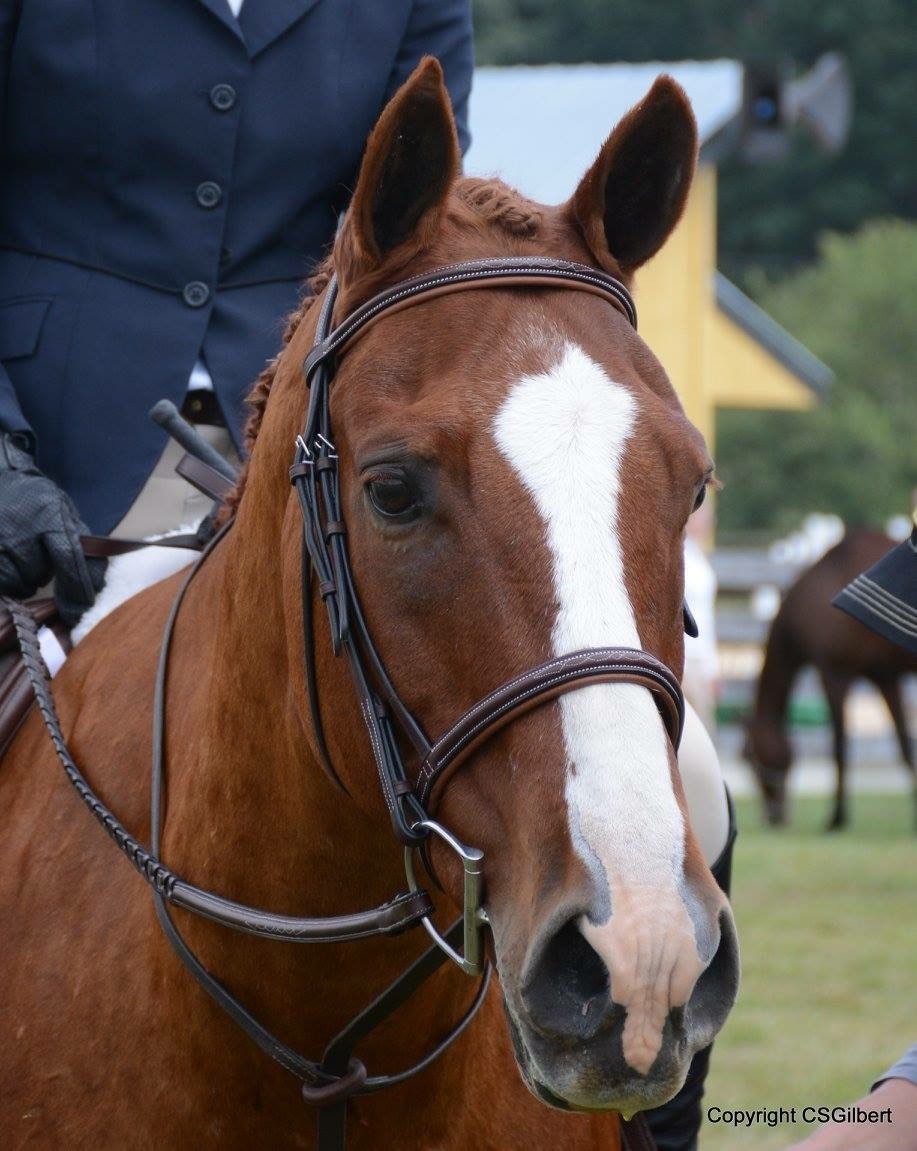 Griffy is a 15.1hh Chestnut Draft Cross. He is currently 13 years old. Griffy started his career as a western trail horse. Since then, he's done a little bit of everything – from showing to jumping to quiet trail riding. He is one of the safest and kindest horses you will meet. He loves hugs and cuddles and will listen to everything you have to say.
Highlands Ashton ("Ashton")
Ashton is a beautiful dapple grey 14.2hh Welsh/Thoroughbred Cross. He is the youngest member of our equine team and enjoys getting to know everyone. He is sometimes a little shy and often worries when things move too quickly, yet he is honest and kind. Ashton enjoys a nice scratch behind his ear and his dinnertime!
Key to the Empire ("Empire")
Empire is a 16.2hh Dark Bay "Off the Track" Thoroughbred. He is currently ten years old. Empire was bred to be a racehorse and had a successful racing career. Upon his retirement from the racetrack, Empire found a new job as a riding horse and jumper. In addition to his riding career, Empire found that he loved to connect with people through equine therapy. He came out of his shell and thoroughly enjoys meeting new people. He is expressive, opinionated, silly and extremely athletic.
Max Q ("Dennis")
Dennis is one of EquiTeam's older equine residents. He experienced many years as a show horse and lived in many big show barns. He was recently retired by McDonogh School's riding program and donated to EquiTeam to become an equine therapy horse. Dennis is a wise fellow and will often be seen looking off into the distance as though he is deep in thought. He loves meeting new friends (horse and human) and often greets them with a big lick! He also loves hugs and being brushed.
Miss Katie's Mini's
Katie Fitzpatrick is an Equine Specialist here at EquiTeam who has her own herd of miniature horses. She breeds and shows them on a national level. Throughout the year Miss Katie shares her mini's with EquiTeam, as they all enjoy being a part of the equine therapy. So far Silly, Sassy, Cooper and Devon have joined our team at different times.
Board President
Chris Hamilton
Founder of EquiTeam Support Services
1200 South Pleasant Avenue
Dallastown, PA 17313
(717) 244-8994
Secretary
Marian Hamilton
Co-Founder of EquiTeam Support Services
1200 South Pleasant Avenue
Dallastown, PA 17313
(717) 244-8994
Treasurer
Matthew Williams
Advantage Engineers
910 Century Drive
Mechanicsburg, PA 17055
(717) 215-4817
Mr. Steven Jenson
York, PA
Mr. Justin Kunkle
Etters, PA
Mrs. Diane Merino
York, PA
Mrs. Jessica Kinsley Schiding
Seven Valleys, PA
Mr. Daniel C. Scott
Freeland, MD
Ms. Amy Weaver
Spring Grove, PA
Ms. Kimberly V. Yanavitch
York, PA